Posted by Rebecca Vanderkooi on October 6, 2021 in News, Student Life via FSU Torch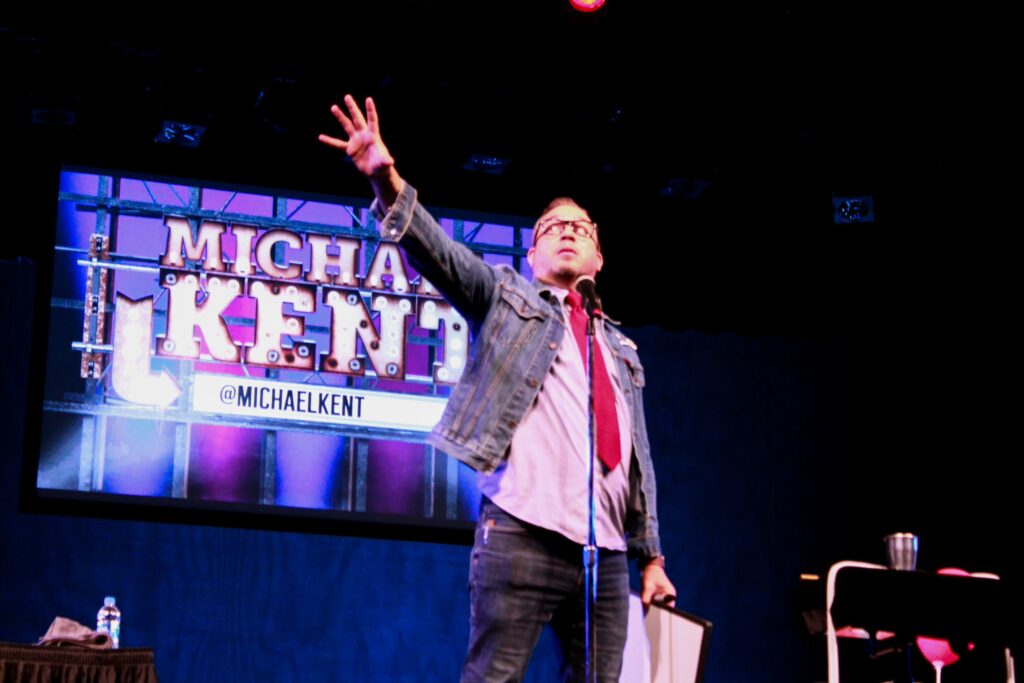 Award winning comedy magician, Michael Kent, returned to Ferris this past week to put on a show for Friends and Family week.
Approximately 150 students and their families attended the Friday evening event held in the Williams Auditorium.
Dominic Parrish, a junior involved with Entertainment Unlimited, the organization who put on the event, explained that Kent has toured at Ferris before, and they were eager to have him back for Friends and Family week.
"We've had [a] good reception from him before, so why not have him again? He's a great magician and all-around great person," Parrish said.
Throughout the hour and a half long show, Kent displayed both his witty sense of humor, similar to a late night talk show, as well as his abilities as a magician all while interacting with the crowd.
Kent called sisters, Tagen and Taryn, up to the stage where he showcased his self-declared mind reading abilities. He successfully predicted that Tagen was thinking of goldfish crackers and Taryn was thinking of Disney World. He even knew the name of their childhood dog, Onya.
"We didn't talk about it, we didn't say the word or anything like that. We never said it out loud," Taryn, who is a freshman at Ferris, said.
Kent, now 42, has been professionally doing magic and comedy since the age of 25, when he left his marketing job to pursue his dream full time.
"It's just one of those things where I'm passionate about it. So I'm willing to work really hard at it because I'm constantly interested in it," Kent said.
Kent's hard work has brought about success. He won Entertainer of the Year in Campus Activities Magazine in 2014 after being nominated both years before.
Kent has performed in hundreds of colleges and almost every state. One year he went to 40 states. His favorite shows have been performing overseas for the United States troops.
"They've sent me to some wild places. Places like Seoul, South Korea and Thailand and Tokyo. Places that I may have never been had it not been for magic. The audiences there are super appreciative because they don't get a lot of entertainment choices," Kent said.
Kent ended the show telling the crowd how grateful he is to be back performing and interacting with a crowd after the extended hiatus due to the COVID-19 pandemic.
"I thought I was working hard before, like in 2019. The amount of work that I had to put in last year to learn new skills to learn new tricks every week to do virtual magic was crazy," Kent said.
Kent explained that while many events have been smaller than pre-pandemic times, he's so grateful to be able to feed off the audience's energy once again.
To see upcoming events at Ferris, check out the web calendar on Ferris' website.