I'm feeling much better. Whatever vile illness existed inside my gut last week is much less painful this week. Still not 100%, but feeling much better. This weekend I flew back to Manchester, NH to perform in New London, NH at Colby Sawyer College.
First, let me say something – When I got to the Manchester Airport Sunday, John McCain's "Straight Talk Express" was there. I didn't take a photo because my camera was put away in my bag. Apparently he was christening a Nascar race or a gun rally or something. In any case – everyone made a big deal about Barack Obama's plane because he took the American flag off the tail when he repainted it with his campaign colors (red, white and blue). If that's such an issue why isn't anyone pointing out that McCain's plane is blue and yellow? No American flag, no red white and blue. Just sayin: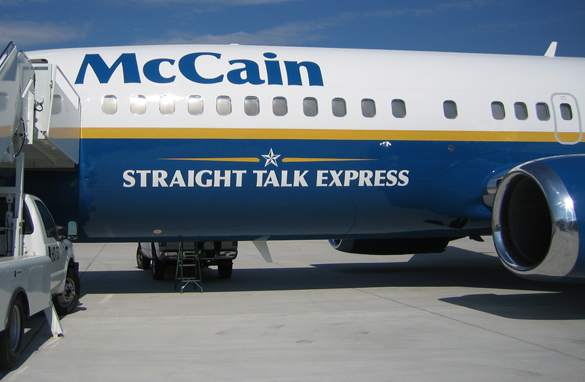 Anyway, I drove about an hour to New London, NH. I wanted to grab a bite to eat when I got there, so I used the "Food" option on my Garmin. The only places that came up were Mom and Pop joints, so I instantly knew I was in a small town. I was craving some Applebees or maybe Red Lobster. The only thing on the map I'd ever heard of before was Subway and it was closed on Sunday! So I headed to "Pizza Chef" and had a hot sub. It was actually pretty good. The girls behind the counter were nice and made a joke about how they accept every kind of currency except IOU's.
Then I arrived at my motel. The Fairway Motel. I walked into the office (which was really just a hallway in someone's house), and got the key to my room (which was a real key) and proceeded to room #5 at the creepy Bates Motel like place. It was actually really nice and clean and had TV and wireless Internet, so I was fine. Really, if ANYWHERE has TV and wireless Internet, I'm pretty much set. That said, the place was rather quaint:

I got to Colby Sawyer and was shown around by Megan and Noah. The teaser went really well – lots of interest in the show already. Colby Sawyer only has about 1,000 students, so the expected crowd was somewhere around 100-150. At 5 minutes until showtime, the room was FULL and they had to put more chairs out until they ran out of chairs. In total, about 248 students came to the show and they were an awesome crowd. Super excited. Here are some photos from the show:

There are more photos HERE.
Apparently while I was performing in New Hampshire, they were having 75 mph winds back home in Ohio. My friend who works in the energy industry said that 60% of Ohio was without power on Monday. Flying into Columbus at night, it was interesting to see all the dark spots. You couldn't really tell where the highways were like you usually can. You could only see the cars themselves. Getting home wasn't too difficult although there were several traffic lights out along the way. I was happy to see that my house didn't lose power. My patio furniture is ruined, but we've got power and hot water, and for that I feel grateful (and like a spoiled brat). Most of our electricity crews are in Texas helping with the the Hurricane Ike damage down there, so many places in Columbus won't regain power until as late as Thursday! I really hope people don't eat spoiled food. Also glad it's not 100 degrees out – I can't imagine not having AC!
My next show is at Shepherd University in Shepherdstown, WV. Shepherdstown is a neat little eclectic town near Washington DC with a rich civil war history. I remember having a blast there last year – can't wait to go back. I'm really flattered that so many of the schools are re-booking me year to year. I try my best to constantly improve the show so even if some of the bits are the same, they're funnier and better.
Also just announced is an Oct. 21 performance at Eastern Carolina University in Greenville, NC. Check out my performance calendar for more dates.
peace, love and tree limbs in the road,
mk